Frequently Asked Questions
Guide to towing a tiny home trailer safely.
Step 1
Building the trailer safe for transport.
Whoever you hire to build your tiny house trailer, make sure they have experience, references, and a great warranty. Most builders do a fabulous job building tiny homes yet they either try to save money by putting the tiny home on top of a cheap trailer. Tiny Houses are meant for living in and for traveling. If the trailer the tiny home is built on is made of poor quality or just cant handle the weight that is on top of it, then there could be future problems with the trailer being not safe for transport.
Ask your builder to make sure your tiny home is built on a tough trailer.
The axles should be strong axles.
The tires should be high ply tires.
Step 2
Once you know your builder can build a safe towable trailer, you can plan your spot. Make sure the area you want to have your trailer parked in is going to work for the trailer you want there.
Check the width of spot, also clear any low tree branches, telephone or electrical wires that might interfere with the height.
Step 3
Hire a company that is licensed, insured, bonded and experienced with tiny home moves. Not all companies that pull trailers are qualified to pull tiny homes safely. They take a much higher respect for towing then a normal rv trailer. Do note: we have the experience to deliver your tiny house safely!
For anymore questions about tiny home transporting, feel free to call us at 800-462-0038. We are open 7 days a week.
Get your tiny home transporting quote now by filling out the form below.
Fill out the quick and easy Tiny House Transport Quote Form.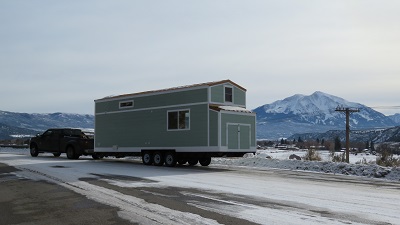 We transported the below tiny house from California to New Hampshire. The manufacturer had us take a detour to Fox Business News in Manhattan, NY.
Click on this link for the video: Click Here